As version 1.0 is finally on the horizon, DFour Games would like to show of our newest milestone - v.0.8. There is few changes so let's get to it:
Weapon Animations
This version introduces animations for each weapon available and also monsters attacks. Best thing is to see it for yourself but now every bite,swing, throw or flying arrow is now visible. Talking about weapons. Crossbow makes a debut as well.
New hero : Lorac
Lorac is our newest hero and she brings already mentioned crossbow to the arsenal. Crossbow is currently an exclusive weapon to Lorac but next release may bring some weapon swaps to other heroes.
Other Changes
From now on monster can only attack from second line if they have a projectile or can cast a spell. This brings 'reality of a fight' to be more inline and also changes team tactics. Main menu had a little revamp and you can now control music and sound separately in options menu. If you are into language packs, Polish and French languages are now put in their own files along with German. Bug introduced in version 0.7 where having Theregond ,Curvenol or Zareth in the team will break the game when attacked is now fixed. Save games from ver. 0.7 can be used unless you got those three heroes in your parties. Last think, If you not voted yet for DarkGates to be releases on Steam, now you have a single button, which will take you straight to Greenlight page :)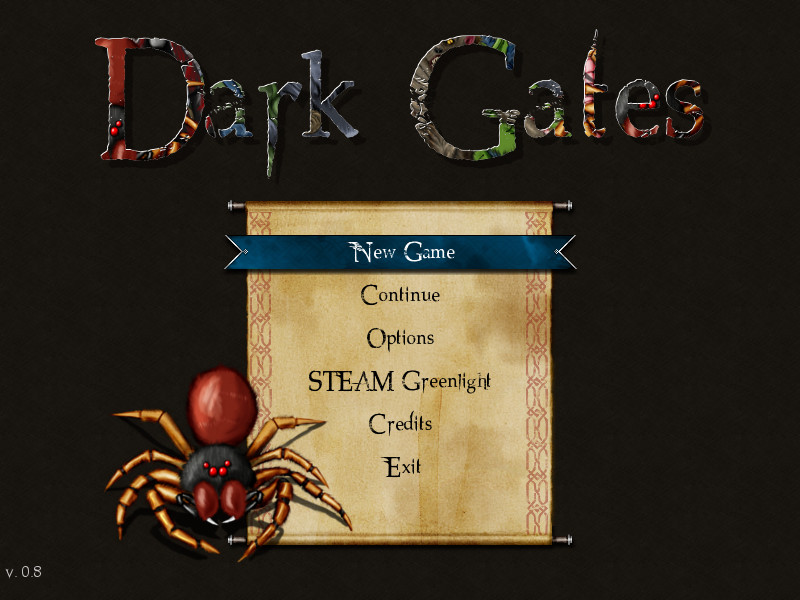 Changelog - Release 0.8.0
----------------------------------------------------------------------
New: Hero Lorac
New: Weapon - Crossbow
New: Weapon animations while in fight.
New: Sound and Music are now independent in options.
New: Steam Greenlight button in main menu
Change: Monsters from second line can't attack unless it's a projectile or magic.
Change: Polish and French language is now exported to separate files in lang directory.
Change: Main menu has been revamped
Bugfix : Game will brake if heroes Theregond ,Curvenol or Zareth are attacked by monster (introduced in 0.7.0 release)